My journey as a caregiver
The back story
My LO has had many health issues over the last few years; a aortic valve replacement, a pacemaker implanted, a-fib, bladder cancer, peripheral neuropathy are just some of the issues. However with all these issues his daily life has been pretty good. 
In July of 2022 he got on a plane and flew to Houston for a checkup on his bladder cancer, all was well, but I was worried about letting him go alone, he did fine though, so I didn't think anymore about it. Unfortunately the day after he got back I took him to the emergency room because he was running a fever, turns out he had Covid. He got over it really well.
Then in September he made the same trip, only this time there were issues. He locked himself out of his room twice, he was awake all night because someone was playing the radio too loud (turns out the radio was in his hotel room). The map I drew him of his route to the doctors office was confusing to him. I arranged a wheelchair for him in the airports because of his balance and weakness problems. This time I was very worried about sending him alone but didn't have much choice.
While he was in Houston I received a phone call from his cardiologist saying that his pacemaker was sending out some alerts and they would like to see him as soon as he got home.
We went to Columbia SC where his cardiologist is and we're told they needed to upgrade his pacemaker because the different sides of his heart were not beating in rhythm and he wasn't getting enough oxygen to his brain. I was a little relieved because the changes I was noticing I thought could be attributed to that and would be relieved by the upgrade.
On December 5th 2022, they replaced his pacemaker.
It didn't help with the things I was noticing, basically the hallucinations, the confusion, the fluctuations in alertness, the lack of appetite, so we went to his primary care physician and I took a checklist of Lewy body dementia symptoms. My LO had most of the symptoms. We we're referred to a neurologist and in January of this year he was diagnosed.
Back in September, I went to my doctor for a checkup, I was angry all the time and couldn't figure out why, in her office I broke down and started crying. She prescribed a antidepressant. I think that helped me to realize what was going on. Once I calmed down enough to step back and look at the whole picture, I realized my LO wasn't doing these things to drive me crazy, he was doing them because something was very wrong.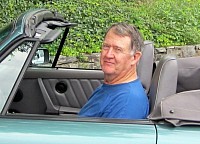 My journey as a caregiver
Yes, I've stopped painting. Life has decided I need to do more important things. My husband has been diagnosed with Lewy Body Dementia, so now I need to dedicate my time and energy to taking care of him. I do not regret giving up the painting because this is where I need to be now. Concentrating on taking care of my Loved One (LO) is my first priority, but being a caregiver is not always easy, sometimes I need to vent. So this page will be my space to vent. You have been warned! Read at your own risk.