My journey as a caregiver
Fluctuations 
One thing this disease is famous for is the fluctuations in abilities both cognitive and physical. So yesterday my LO got up and shaved, allowed me to cut his hair, and ate real food. He was weak and I ended up holding him up while he shaved but it's the first time in months that he's paid any attention to his grooming.
I'm not sure what prompted this "awakening" but whatever it was, I'll take it. It will be interesting to see if it continues.
175 lbs
I wish I knew what to do. I don't! 
Another fall, another call
So my LO fell in the bathroom again, somehow he managed to wedge himself between the tub and the commode, and I could not get him up. I know it's embarrassing for him, but sometimes there are no alternatives but to call 911. 
The physical therapist wanted to know if he wanted to continue pt. He finally agreed but only because Medicare is paying for it. Sometimes his reasoning is suspect. I really don't know if they are doing any good, he's been seeing them for about 6 weeks, or maybe 8. In that time he has become much more weak, is now in bed every day, all day, unless using the bathroom, or getting up for them. It's hard to watch. On a good note he seems to be eating a little better.
I wish I could find something that interests him, but nothing I've tried has worked, so I turn on the tv, and he watches the news channel all day.
I can't fix this, I just need to go with it, and allow what will be.
And now for a completely different line of thought; there is something about his eyes that's different. It's like the pupils are more noticeable. They're not larger, they just seem more black somehow. He has the mask, or blank look associated with the disorder, so maybe that's why I'm noticing his eyes so much. I don't know, it's just somehow his eyes are different.
Scary Realizations 
My LO had to get up last night to use the bathroom, I almost couldn't do it. The transport wheelchair we have isn't working, it would be easier for me to have a normal wheelchair, even so, I'm not sure how much longer he could use a wheelchair. So do I invest in a wheelchair? The bathroom is not wheelchair friendly, do I remodel the bathroom?
He was surprised last night that he needed to use the wheelchair, he believed he had been up walking with his cane for the last two days, in reality he hadn't gotten out of bed for those two days. 
I am dealing with some amount of depression as I watch all this happen. I've come to realize some things about myself. I tend to be a "fixer." I want to fix things for my loved ones and if I can't, I feel like a failure, and I feel overwhelmed. This has played out so often in my life; with my mother, my son, and now my husband. I need to learn how to support him in his journey, without trying to fix it, or run away, or emotionally withdraw.
I have been watching near-death-experiences (NDE) videos on YouTube, because I wish those experiences for my LO. I hope he sees his daughter and son when he passes, and I hope he feels that all encompassing love. My mother had a NDE, she described it very much the same as those videos. So they give me hope.
An Outing 
Yesterday my LO went to meet a friend for coffee, however it took so long to get him up and dressed that, by the time we got there, his friend had left. So we went and got an ice cream cone instead. He enjoyed being out, it was a pretty day with lots of sunshine and the spring flowers blooming. I wish we could have spent more time out, but he was tired, so we came home and he went back to bed and slept. I want to remember every moment of yesterday, because I don't know when or if it will happen again. We've only gone out for doctor appointments and his meeting with his friend, which is happening less frequently now. It was nice having a little "normal" time with him.
There are moments with him when he shines through the dementia. Little moments of humor. I was helping him to reposition himself in the bed the other day, he asked where I had learned how to do it, I said "YouTube" and he laughed, and I laughed, because it's true and somehow ridiculous at the same time.
Then there was the time I was helping him find something on Nova to watch, he can't figure out the remote so I need to help him find things to watch. A tedious task for me because it's frustrating because his responses are so slow. So I'm reading through the synopsis of Nova episodes, waiting for him to acknowledge one he wants to watch, we come to one titled "Why Bridges Fall Down." No response, so I move on to the next one, no response, so onto the next one, and then he says "gravity." It must of taken me half a minute  to figure out what he was responding to, I looked at him and he had that twinkle as he watched me catch up to his joke. Oh, how I love that man.
Confusion 
This whole Lewy Body dementia thing is so confusing. My LO can go from seemingly very competent to incomprehensible in a matter of minutes. His physical problems are also changeable. He hates having me help him walk by walking close to him but I need to do so because he can fall in a instant. When he does stumble and I reach for him, he tells me not to, but my instincts will not allow me to not try to help.
Then there is the whole eating thing. He complains about everything I cook, he always has. At first it really hurt my feelings. I would spend hours cooking things the way he said he liked them, and he would complain, finally I started food delivery services, and he would complain about them. Then he started losing weight and I felt guilty that my cooking was so bad, but then LBD was diagnosed and it started to make some sense. He can't smell, this is one of the symptoms of LBD. He is also losing his sense of taste, which is highly dependent on smell, but not completely. His appetite in general is also going, he's not hungry. I think he still blames me for some of this, but not so much anymore. He weighed 183 lbs yesterday, two years ago he weighed 225. It's hard to watch him not eat, but nothing I offer is ever appealing to him, besides chocolate milk, and chocolate zingers (sort of like chocolate twinkies). He only seems tempted by small amounts of sweet things. It's hard to shake the guilt that somehow it's my cooking, and thus my fault.
So it goes. I wonder how long he can survive on how little he eats, but I also am pass the point of nagging. Palliative care is still encouraging him to eat and exercise but while he will do things for them, he won't for me. I may be wrong but I think he's beyond what palliative care can offer. I feel guilt for feeling that way but it's so hard to know what to do.
Puppy Love
Last night my LO was running a low fever, I'm not sure why. His constant companion, a Pomeranian we named Renard (because he looks like a little fox) was by his side the whole time. In fact, he is always by his side. That little dog looks at me sometimes with the saddest eyes. He knows something is wrong with his, and my, LO. Perhaps it's personification on my part, but I swear those eyes are asking me to fix his LO.
My dog, Sam, is 40 lbs of enthusiasm and energy, therefore for the sake of safety for Renard and my LO, I need to keep him separated from them. Sam doesn't understand why, but accepts it. Sam is my sanity. A lot to put on a dog but he helps me more than I can ever say. He responds to my moods with hugs when I need them and reminds me of the joys of a simple walk. He brings me his toys when he wants to distract me from my problems. Or just sits by me quietly when I need to cry. I think he too understands something is wrong with my husband, he always wants to be in his lap when they're in the same room but at 40 lbs I can't allow that, and Renard won't allow it either. 
I love our puppies, they make life a lot more complicated, but are so worth it. I am so grateful they are sharing our lives. As for the cat, the poor thing has been upstaged by the dogs, but I love her still.
Lions & Tigers & Bears; Oh My!
As a caregiver for my LO, there is a overwhelming feeling of anxiety as I look at where we are now and where we are likely to end up. Everywhere I look there are things I need to do, from picking up the dog toys to getting a new roof on the house, but I have precious little energy to get anything done. 
It takes literally hours some days to get my LO out of bed. Yet, since he does spend so much time sleeping, I should be able to get this stuff done, but I don't, and that's on me.
I'm not someone who needs a lot of interactions with others, in fact, I'm rather antisocial. I'm just not that comfortable with most people, that being said, I am feeling some loneliness. I miss my husband. 
Take a deep breath 
Yesterday my LO had a skin cancer removed. It was a long appointment, but eventually we were through it. We then drove home and got him into bed and he slept, watched some tv, and slept again. Barely ate anything. This morning he wanted to get up at 6:30, we decide that was too early, so he went back to sleep until about 9:30. He got up then and on his way to his recliner, he stopped in the bathroom. That's where he fell into the bathtub. I had to call 911 because I couldn't get him out by myself, but he refused to go to the ER.
Thats when I told him about what the future with this disease will be like, because I needed him to know the truth just once. But truly I don't know if it was right to do or not. I know the advice is to let them have their hopes, but I would want to know if I was in his position. So in the end I decided to do what felt right. He has been talking about how things aren't getting better, I felt he had a right to know why.
I have no plans to repeat that conversation. He will probably forget it ever happened but I feel better for being truthful about it just once.
After the conversation I took Sam (my dog) for a walk, and Carl fell asleep and is sleeping now, he still hasn't eaten.
A New Day
One of the hallmarks of Lewy Body Dementia (LBD) is the fluctuations. So we get up each morning not knowing what the day will bring. My LO spent 3 days in bed, barely eating, watching some tv, very little communications. Then, yesterday his physical therapist (PT) came, and my LO was up and walking some and getting on the recumbent bike. As soon as the PT left he was back to wanting to go back to bed. 
Some of this is depression, some is "showtime" behavior, some is just part of LBD. I know this intellectually, but it is very frustrating.
(Showtime behavior is when the person performs very well for doctors, or visitors, and then as soon as they are gone, they revert to displaying the symptoms of LBD)
It is good to see him able to exert himself but it is also distressing, because I know from experience the aftermath of the exertion is exhaustion.
The back story
My LO has had many health issues over the last few years; a aortic valve replacement, a pacemaker implanted, a-fib, bladder cancer, peripheral neuropathy are just some of the issues. However with all these issues his daily life has been pretty good. 
In July of 2022 he got on a plane and flew to Houston for a checkup on his bladder cancer, all was well, but I was worried about letting him go alone, he did fine though, so I didn't think anymore about it. Unfortunately the day after he got back I took him to the emergency room because he was running a fever, turns out he had Covid. He got over it really well.
Then in September he made the same trip, only this time there were issues. He locked himself out of his room twice, he was awake all night because someone was playing the radio too loud (turns out the radio was in his hotel room). The map I drew him of his route to the doctors office was confusing to him. I arranged a wheelchair for him in the airports because of his balance and weakness problems. This time I was very worried about sending him alone but didn't have much choice.
While he was in Houston I received a phone call from his cardiologist saying that his pacemaker was sending out some alerts and they would like to see him as soon as he got home.
We went to Columbia SC where his cardiologist is and we're told they needed to upgrade his pacemaker because the different sides of his heart were not beating in rhythm and he wasn't getting enough oxygen to his brain. I was a little relieved because the changes I was noticing I thought could be attributed to that and would be relieved by the upgrade.
On December 5th 2022, they replaced his pacemaker.
It didn't help with the things I was noticing, basically the hallucinations, the confusion, the fluctuations in alertness, the lack of appetite, so we went to his primary care physician and I took a checklist of Lewy body dementia symptoms. My LO had most of the symptoms. We we're referred to a neurologist and in January of this year he was diagnosed.
Back in September, I went to my doctor for a checkup, I was angry all the time and couldn't figure out why, in her office I broke down and started crying. She prescribed a antidepressant. I think that helped me to realize what was going on. Once I calmed down enough to step back and look at the whole picture, I realized my LO wasn't doing these things to drive me crazy, he was doing them because something was very wrong.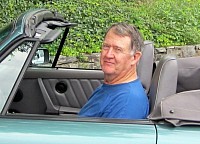 My journey as a caregiver
Yes, I've stopped painting. Life has decided I need to do more important things. My husband has been diagnosed with Lewy Body Dementia, so now I need to dedicate my time and energy to taking care of him. I do not regret giving up the painting because this is where I need to be now. Concentrating on taking care of my Loved One (LO) is my first priority, but being a caregiver is not always easy, sometimes I need to vent. So this page will be my space to vent. You have been warned! Read at your own risk.